by BARBARA SILVERSTEIN
From the Canadian Jewish News, April 29, 2022
Russia's war in Ukraine has probably destroyed or damaged many of the country's historical landmarks, including Jewish sites. The destruction is a major loss. But it's relatively minor when measured against the suffering of the Ukrainians, says David Kaufman. There are hundreds of Jewish heritage sites throughout Ukraine, and in 2016 Kaufman was able to photograph a number of these places in western areas of the country.His images are the subject of his new show, The Posthumous Landscape: Jewish Historical Sites in Western Ukraine, which is running at Toronto's Adath Israel Congregation.
Kaufman said so far none of the places that he has photographed have been hit by the Russian missiles. In Lviv, a few military sites were targeted, and the tiny villages he visited are probably not of strategic importance to Russia. He hopes one day to make a second trip to Ukraine. "I would very much like to return when the situation changes in terms of the war and COVID… Who knows what'll be lost?"
Kaufman, a producer and director for CBC, was on a research trip to Poland for The Fifth Estate, in 1992 when he came across some old Jewish tombstones that had been newly excavated. He was so struck by their beauty that he decided to return to Poland to photograph similar monuments, synagogues and other Jewish structures built before the Second World War. His eighth photography excursion, in 2016, was his first trip to western Ukraine. Two other planned trips to Eastern Europe were cancelled due to the pandemic.
Kaufman has noticed a difference between Poland and Ukraine in their commitment to preserving Jewish heritage sites. "Polish civic society has embraced its historiography… It has not occurred to the same degree in Ukraine." Many Jewish sites there, particularly cemeteries, have been abandoned due to underfunding.
In Lviv, the largest city in western Ukraine, the former Soviet government had permitted the construction of a large outdoor market on the grounds of a Jewish cemetery that had been partially destroyed by the Nazis. "Meylakh Sheykhet, a Jewish community activist in Lviv, has been fighting for decades to reclaim that communal land. It's difficult to recover losses that are decades old."
Lviv, home to 2,000 Jews before the Russian invasion, had been part of Poland before the Holocaust. About 100,000 Jews had resided in the city, then known as Lvov, or Lemberg in Yiddish, one-third of the population. In Lviv, Kaufman noticed about 15 to 20 ghost signs (obsolete commercial signs hand-painted on buildings) with Yiddish inscriptions. "Most are faded. Some are restored …They are commercial evidence of the ghostly presence of the Jewish past."
The city has two synagogues. The Tsori Gilad, now called the Beis Aharon V'Yisrael, has had a "beautiful restoration," while the Jakob Glanzer Shul—it opened in 1844—has had significant water damage. Kaufman recounted how the Soviet government had stripped the Glanzer Shul of its bimah and seating, and removed all the Torahs—about 100 had been stored there during the Second World War—and placed them in Lviv's Museum of Ethnography. "The community has been struggling to reclaim the Torahs, but there's not much of a community to use them." They were also trying to get the historic Golden Rose Synagogue rebuilt. He has photographed the excavation site of the Golden Rose, which was completed at the end of the 16th century and destroyed by the Nazis in 1942.
Meanwhile, the town of Sataniv,  about 200 km south-east of Lviv,  may no longer have a Jewish population but its synagogue is fully restored. Some Jewish structures in Ukraine have also been repurposed. In Vyzhnytsia, the cultural centre is housed in a stately three-storey building that had been the town's largest synagogue. "The [prewar] population had been 90 percent Jewish and there were 11 synagogues." Vyzhnytsia, or Vizhnitz in Yiddish, near the Romanian border, is where the Vizhnitz Hasidic dynasty originated. The Jewish cemetery on the outskirts of the town is well-maintained by descendants of the Vizhnitz dynasty, Kaufman noted. "They come back to pray at a mausoleum, a small building where their revered sages are buried."
While in the region, he also visited Khotyn, a town with a dilapidated, but functioning synagogue. About 15 poor, elderly Jews resided in Khotyn. His photograph of the synagogue's interior includes Yurij Davidovitch, who takes the Torah home every day. "He told me it's too risky to leave it at the shul."
The photo of the Khotyn shul was in Kaufman's show at the Beth Tzedec Congregation in 2017, where Rabbi Adam Cutler had been working. He's now senior rabbi at Adath Israel.Rabbi Cutler said the image of Davidovitch in that decrepit synagogue stayed with him. "It's a reminder that Jewish life is always precarious and subject to outside forces—without investment and ongoing care, it can be fleeting."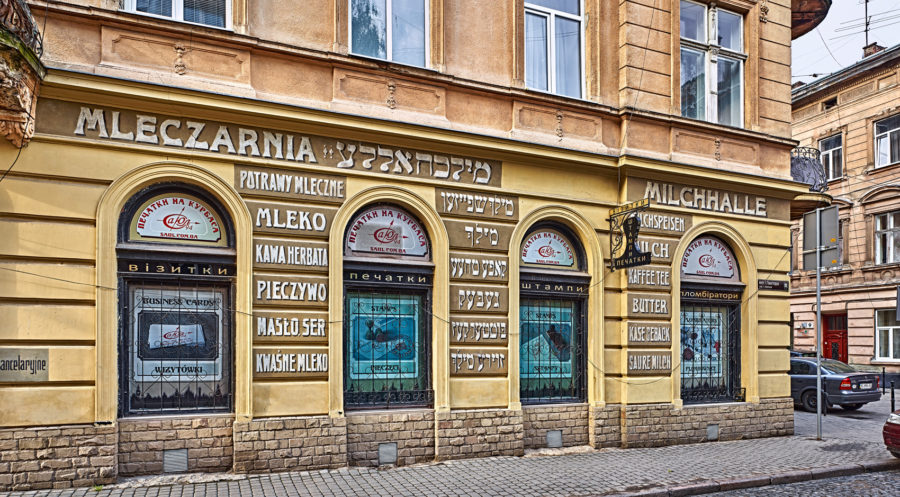 Historical Yiddish Commercial Signage in Central Lviv, June 2016