by RUTY KOROTAEV
From the Canadian Jewish News, May 11, 2017
Few people would be able to see beauty in an old and neglected cemetery in Eastern Europe, but to photographer David Kaufman, old Jewish cemeteries are precious "gardens of memory." Kaufman, a Toronto-based photographer and documentary filmmaker, has been taking still photos of Jewish heritage sites since 2007, and went to western Ukraine in June 2016 to see some Jewish sites in that part of Europe, many of which have long been forgotten.
Kaufman captured many highly detailed, large-scale photos, 30 of which are currently on display at an exhibition in the Reuben and Helene Dennis Museum at the Beth Tzedec Congregation in Toronto.
Kaufman's passion for eastern European Jewish heritage sites began on his first trip to Poland in 1992. He was working on a film in Warsaw for the CBC, where he worked for 18 years, and found himself enamoured by the beauty of what he saw.
"For the first time, I saw Jewish material culture in Poland, like old cemeteries, and I was completely blown away. What is unique about these Polish cemeteries is that for many years, trees were allowed to grow and they have become like beautiful parks, with rows and rows of gravestones. You get this mixture between the orderly and artistic artifacts of the gravestones and nature reasserting itself. I find these environments astonishingly beautiful," said Kaufman, who has made eight trips to Poland since 2007 to take photographs.
"In some places, the war did not lead to the damage of buildings, and there were surviving areas and buildings, synagogues, yeshivot, community buildings from before the war and I found those very intriguing, because, in a way, it was a direct connection to pre-Holocaust European-Jewish history," he said.
As Kaufman began exploring more of Poland, he learned that many of these sites had not been looked after for 40 years, from the World War II era to the early 1980s, when more people in Poland began to take an interest in Jewish historical sites and started putting in more effort to preserve them.
After so many trips to Poland, Kaufman said it was a "natural extension" to begin exploring other countries in the region, which led him to western Ukraine, an area that was home to thousands of Jews before the Holocaust. Kaufman, who grew up in the "bosom" of the Montreal Jewish community, has Ukrainian roots, as his father was born there and moved to Canada in 1919.
During his latest trip to western Ukraine, Kaufman explored the cities of Lviv and Chernivtsi, as well as the surrounding towns and villages in the region that have a great deal of Jewish material culture. He took photos of the synagogues, cemeteries, ghettos and other places that were significant during the Holocaust and prewar times. There are also several portraits of the very few Jews who still remain in these cities, as well as places where Jews lived and worked before the war.
"The remains of Jewish life in eastern Europe from before the war are the treasures of a destroyed Jewish civilization. Aside from what's been written and historical materials, all we have left are physical remains of communities, cemeteries, synagogues and buildings," said Kaufman.
Kaufman attended a Jewish day school before going to McGill University and then Columbia University in New York City. He had a very Jewish upbringing, causing him to have a deep connection to Jewish history, culture, Israel and the Yiddish language. Throughout his career, working at organizations such as CTV, the CBC and History Channel, he always yearned to make more works of art that expressed his Jewish identity and interest.
Kaufman is just one of the many people who have dedicated their time to recording and documenting these Jewish heritage sites, which will likely cease to exist in the coming decades, simply because there are just not enough people or monetary resources to help preserve them. The future of historical Jewish sites in eastern Europe seems bleak, especially in the Baltic states and Ukraine, where there does not seem to be as much awareness or desire to preserve Jewish heritage, due to wartime and post-war political history.
"Every cemetery tells a story of its community, so you can explore the history of these communities through the cemeteries. The big problem is that all this material has been disappearing, not just because of the Soviet era or the war, but it's a natural process — things get old, they fall apart and disappear," he said.
To Kaufman, photography is something that bridges time and gives people the ability to see physical things that no longer exist. This, along with his lifelong passion for photography, is why he chose to take photographs of these sites instead of using another medium.
"Photography is very powerful, especially in the Jewish community, where so much was lost during the Holocaust. I, along with many other people, feel that photographing what remains of Jewish life is akin to a mission, and the mission is to preserve what is left of a once great Jewish civilization in central and Eastern Europe."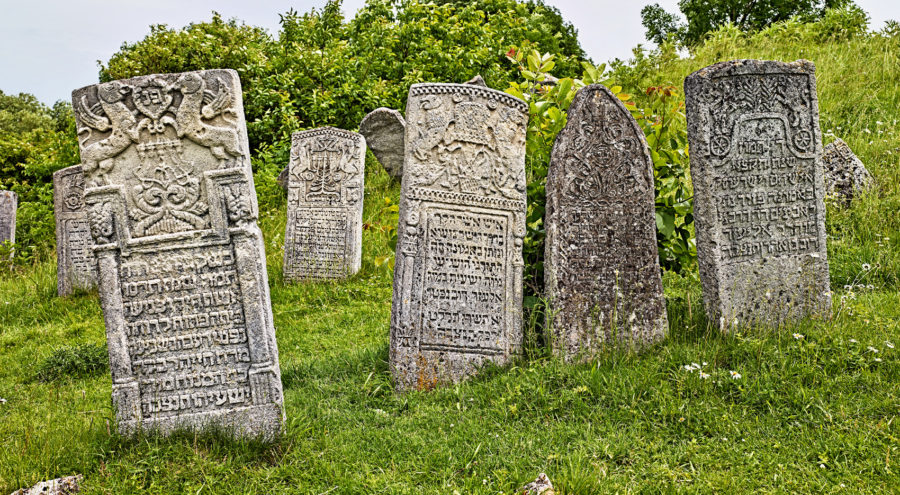 Elaborately-carved Gravestones in the Historic Jewish Cemetery in Busk, June, 2016